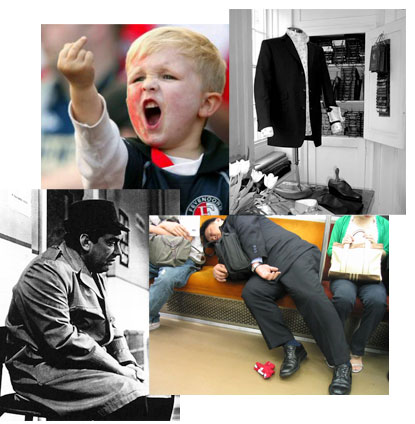 JUNIOR ASPIRIN PODCAST 09: THE HUMORS, in FOUR PARTS....
Four reflections on medieval humorism. Like Rick Wakeman said of his "Six wives of Henry VIII" , these are not meant to be taken as literal representations of the four medieval temperaments... rather a contemporary redressing of an imbalance of humors.
Devised and selected by Patrick Gibson.
Part One - Sanguine
.
Laughing the loudest and
wearing the flashiest outfits
, a courageous selection of tracks. Ultimately lending themselves to sketches, life drawings, and rustic scenes. The humor of Sanguine is usually treated with leeches.
PODCAST HERE
Part Two - Choleric
.
BILE BILE BILE a fiery YELLOW grouping.
There is nothing I love as much as a good fight.
A natural superabundance of the choleric.
PODCAST HERE
Part Three - Melancholic
.
Semper Dowland, semper dolens.
Melancholy Dane
. Indolent dreaming wistfulness.
Where is the ring I gave to Nancy Spain?
PODCAST HERE
Part Four - Phlegmatic
.
Get up late in the morning; Dorian mode on C; Take a nap; Eat; In this case the mode is the Phrygian; Take another nap; Go to bed. Hey Mr Pharmacist!
This is one for those availed of a superb set of headphones - frequency spectrum junkies, medotists, nanologicians, monkish gong ritualists -
communicate with the insect kingdom
: Phenomenon, certainly but
without the Iron Maiden
.
PODCAST HERE
_________
TRACKLISTINGS:
Sanguine
01
A Love Supreme
- Alice Coltrane
02
Zulu Nation Throwdown
- Africa Bambaataa
03
Contort Yourself
- James White & The Blacks
04
One more night
- Can (Ege Bamyasi)
05
Ubu Dance Party
- Pere Ubu (Dub Housing)
06
Take Yo Praise
- Camille Yarborough
07
To
- Tom Ze
08
Dearest Friends
- Von Südenfed (Tromatic Reflexxions)
09
Yield to Total Elation
- Matmos (The Civil War)
10
Love in Outer Space
- Sun Ra (Out There A Minute)
Choleric
01
Structure
- Glenn Branca (Ascension)
02
Kebabtraume
- DAF (Mute Audio)
03
Egomaniac's Kiss
- DNA (DNA on DNA)
04
On Sadism
- Material (Temporary Music)
05
Yahsar
- Cabaret Voltaire (2x45)
06
Horizontal Folds
- This Heat (This Heat)
07
11,000 Volts
- Mars (Mute Audio)
08
Get Up & Use Me
- Fire Engines (Codex Teenage)
09
Poptones
- Public Image Ltd (Metal Box)
10
Fuckaz
- The Bug (London Zoo)
Melancholic
01
Don't have to be so sad
- Yo La Tengo (Summer Sun)
02
I Can't Live Without You
- Mulata Astatke (Ethio 4)
03
Trieste Bahia
- Caetano Veloso (Tramsa)
04
Hold On
- Tom Waits (Mule Variations)
05
We Have a Map of the Piano
- Mum (FInally we are no one)
06
Blue Thunder
- Galaxie 500 (On Fire)
07
Blossom Time
- Danil Grubbs & Loren Connors (Arborvitae)
08
Sobbin' Blues
- King Oliver's Creole Jazz Band
09
Dark was the night, Cold was the ground
- Blind Willie Johnson
10
Untitled Blues
- Albert Ayer
Phlegmatic
01
Pax
- Philip Jeck (Stoke)
02
Quarto quardo
- Luciano Cillio (Dell'Universo Assente) 08:00
03
Trance 2
- Angus Maclaise, Tony Conrad & John Cage (The Cloud Doctrine) 16:45
04
Water Gong
- Annea Lockwood (Early Works) 20:44
05
Gentle Fire
- Earl Brown, John Cage & Christian Wolff (Gentle Fire) 26:30
06
Analogos
- Akio Suzuki (Odds & Ends) 36:44
07
Part 1
- John Wall (Hylic) 49:15
08
Untitled
- M.E.V. (Rome) 58:12
09
Soup
- Gruppo D'Improvisazione (Nuova Consonaza) 01:07:17
10
Unfamiliar Winds
- Brian Eno (Ambient 4: On Land) 01:14:25